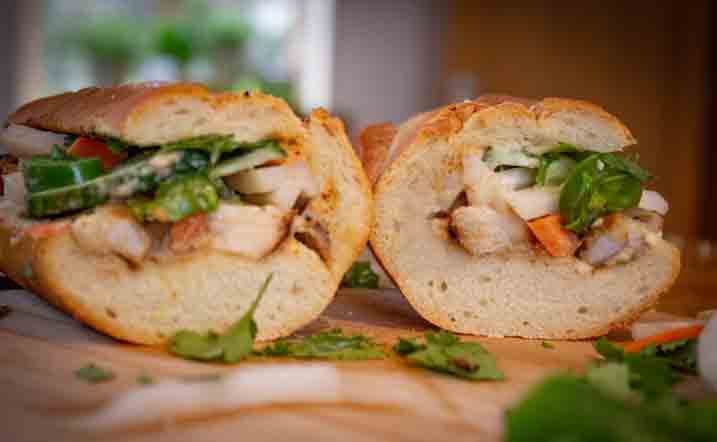 For those looking to make an authentic Vietnamese style sandwich, today we have a banh mi sandwich recipe that will hopefully open your eyes to a whole new world of Asian cuisine.
This sandwich recipe takes its influence from Andrea Hguyen, a Vietnamese-born, American food writer who is renowned as one of the top experts in Asian cooking.
Those who follow Andrea, will already know the authentic ingredient she uses in almost all banh mi recipes thats adds a definitive flavor to a banh mi sandwich. I'm going to share with you today that very ingredient.
There's a little bit of prep time beforehand so let's get started in making a delicious chicken banh mi with daikon and carrot pickle, cucumber, green chilli, topped with fresh coriander.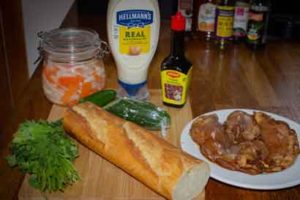 Preparing The Chashu Chicken Marinade
Marinade ingredients
Clove of garlic – Finely chopped
Chinese 5 spices – 1 Tsp
Ketchup – 1 Tbsp
Hoisin sauce – 2 Tbsp
Soy sauce – 2 to 3 Tbsp
Honey – 1 Tbsp
Sesame oil – 1 Tbsp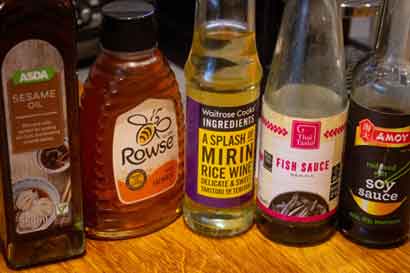 To make a medium sized baguette we're going to need 2 skinless, boneless chicken thighs each around 200 grams ( 7 oz).
A tip here is to lay the thighs flat onto a chopping board, remove any excess fat then score lightly lengthwise with a sharp knife to help flatten the thighs out. This allows the thigh meat to be cooked more evenly in the pan later.
With the chicken thighs prepared take the ingredients listed above, mix together in a large bowl.
Add the thighs to the bowl making sure they are well coated with marinade. Cover and leave for at least 30 minutes to marinade. 
You can leave the chicken to marinade in the refrigerator for 24 hours if you wish. If you decide to refrigerate the thighs, remove from the fridge and let sit at room temperature for around 30 minutes prior to cooking.
Preparing The Daikon and Carrot Pickle
Pickle ingredients
Daikon
Carrot
½ cup water
½ cup white sugar
1 cup distilled white vinegar
A sight you'll see all the time amongst vietnamese street food vendors is jars of daikon and carrot pickle.
You may be able to buy the pickle at good food delis near you. If you can't find any follow this easy to make recipe in the video shown below starting at 3 minutes where Andrea begins to prepare the pickle.
You have the option of jarring the pickle to place in the fridge for 24 hours or just leave it to soak for around an hour in the bowl prior to making the sandwich.
It's important to drain the pickle using a kitchen towel for several minutes when you're ready to start building your banh mi sandwich.
Cooking The Chicken
Take the chicken thighs we marinated earlier, place in an oiled pan on a medium heat. The thighs tend to take around 2 to 3 minutes to cook on each side. When the meat starts to take on a chargrilled color they're cooked.
Remove the cooked chicken from the pan, drain any excess oil.
Place onto a chopping board and cut the thighs lengthways into thin strips using a sharp knife.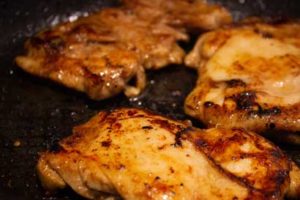 Building your Banh Mi Sandwich
You should now have all the main ingredients ready to start making the sandwich. 
Cut a white baguette lengthways down the middle, try not to cut all the way through, leaving a hinge of bread so we can fold the baguette open.
Spread mayonnaise evenly on both sides of the cut bread. Japanese Kewpie mayo is great if you have it. Which leads us to that special ingredient I mentioned earlier.
MAGGI Liquid Seasoning is our definitive banh mi sandwich flavor that we're going to add.
Sprinkle over the mayo fairly randomly making sure all of the bread has a little covering.
If you can't find MAGGI at the store, Bragg Liquid Aminos which is a fermented soybean based sauce is very close in flavor and makes a good alternative.
Adding the final ingredients
Lay the chicken strips evenly along the length of the bread so every bite will have a taste of this delicious Asian flavor. Now to add a layer of the daikon pickle, again fairly evenly.
Cut a few slices of cucumber any shape you like, as sticks, circles or ovals, it's up to you what shape and place on top of the chicken strips, pickle layers.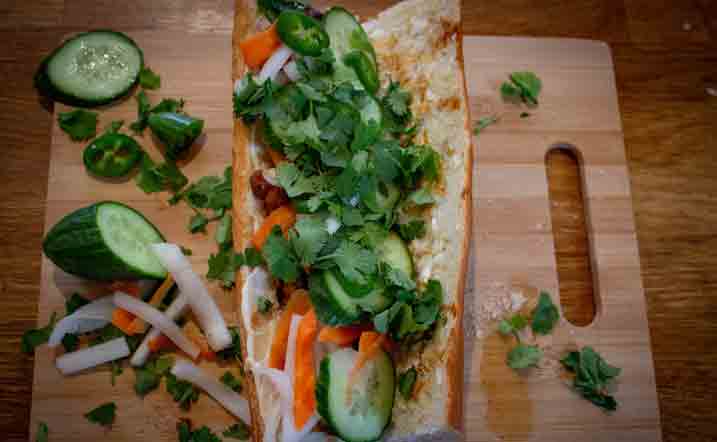 Asian Sandwiches – All Time Traditional Favourites Finally top with some chopped green chilli and fresh coriander.
If you're new to Vietnamese cuisine and especially banh mi then you're in for a real treat as it's one of the most popular Asian sandwiches.
If you're like me then you'll always have all the ingredients in your kitchen ready for the next time you start to crave this authentic Vietnamese street food.
Check out Andrea Nguyen in the video below to watch how she makes a banh mi sandwich.
If pork is more to your taste, take a look at my tradtional recipe for pork banh mi.
Ingredients
Baguette
Chicken thighs x 2 – 200 g
Olive oil for cooking the chicken
Mayonnaise
Daikon and carrot pickle
Green chilli
Cucumber
Fresh coriander
MAGGI Sauce
Marinade ingredients – See above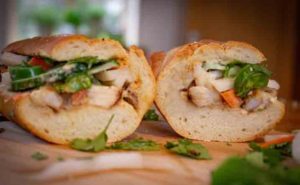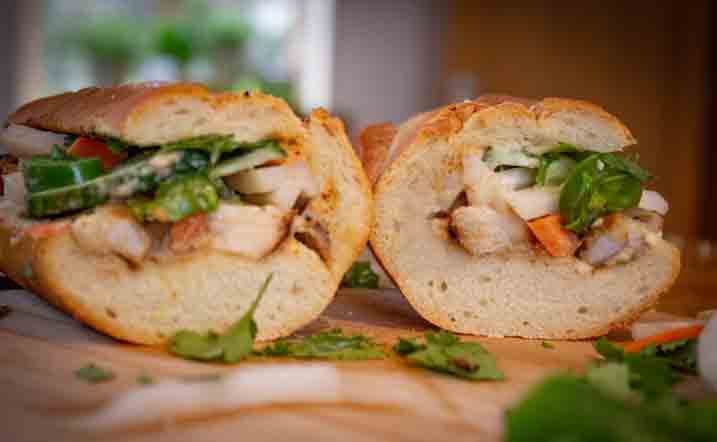 Instructions
Prepare 2 chicken thighs, approximately 200 grams each
Prepare the marinade – See above for ingredients
Add prepared thigh meat to marinade and leave for at least 30 minutes
Prepare the daikon and carrot pickle – See above for instructions
Cook chicken thighs on a medium heat oiled pan for 3 minutes each side
Drain cooked chicken of excess oil
Slice cooked chicken into strips lengthways
Cut baguette lengthways
Spread mayo onto cut baguette
Sprinkle MAGGI sauce onto mayo spread
Layer chicken strips onto mayo base
Add drained pickle onto chicken strips
Cut cucumber and green chili and layer onto pickle
Top with fresh coriander
Serve