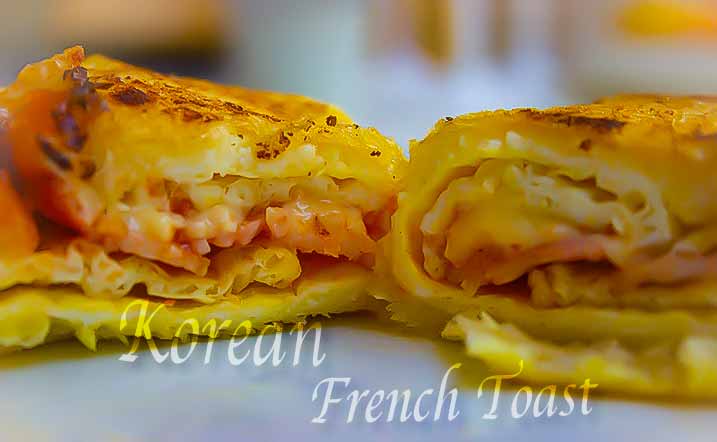 How to Make Korean French Toast
Korean Style French toast comes with many fillings and flavours. Today we'll take a look at how to make Korean French toast with a savory filling. 
Popular around breakfast time on the streets of Seoul, Street Toast or Gilgeori Toast as it's known locally adds to the busy sights and sounds of city life with its delicious aroma of fried bacon and melted cheese.
If you're travelling to the Korean capital, head to the hot spot for local food, the Naeja-dong neighbourhood. Here you'll find many street sandwich sellers offering this satisfying local snack.
Let's now take a look at how to make this triple taste delight of egg, bacon and gooey cheese with an added dollop of ketchup.
Step by Step Guide to Making Korean Toast
For this sandwich I have used streaky bacon. Fry on a medium heat 1 or 2 slices of the bacon in a medium sized non-stick pan.
Place the bacon to one side. You can leave the bacon fat in the pan if you like for added flavour and place a small amount of butter into the pan.
While the butter is melting, break 2 eggs into a small dish and add a pinch of salt to taste. You can separate the eggs with a fork a little if you wish.
With the butter gently melted over a low heat add the egg ingredients to the pan. Let the egg combine a little, then add the 2 slices of bread in the centre of the egg base.
Turn both slices of bread over so they have an egg coating on the underside. Leave for a moment until the egg is cooked through then turn the egg / bread omelette over using a spatula.
With the egg and bread now combined together, carefully fold over the corners of the outer egg layer onto the bread.
Add the cheese slices and bacon to each side of the bread and then squirt as much ketchup as you like on top.
Now turn over the non-layered slice of bread to complete the sandwich.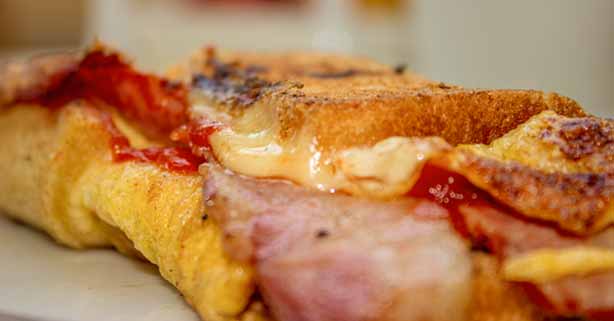 If you take a look at the video featuring Maryjane with the following time stamps as a further guide it may help you in making the perfect sandwich.
Butter added to pan 0:47
Egg added to pan 0:53
Bread added to egg mixture 0:59
Turn over the eggs / bread 1:27
Fold over the edges of egg 1:37
Layer with cheese and bacon 1:57
Korean Style French Toast Omelette
Ingredients
Eggs x 2
Butter
Salt
White bread sliced in half
Single slices of cheese
Bacon
Ketchup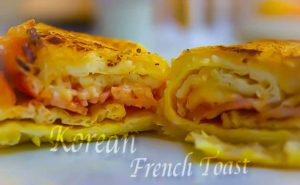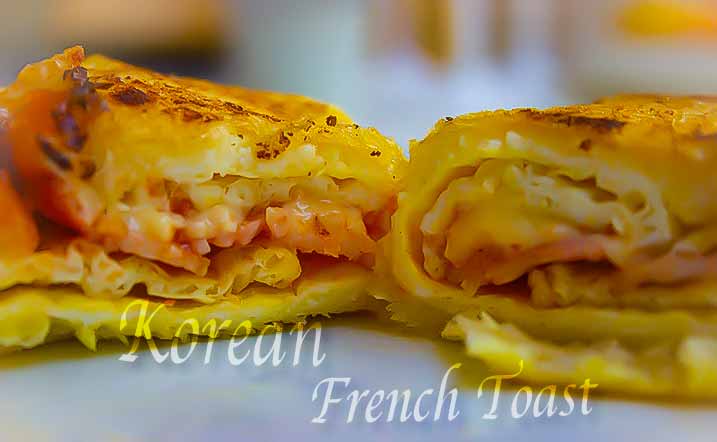 Instructions
Fry bacon and leave to one side.
Melt butter in pan.
Mix egg and salt in bowl.
Add 2 half bread slices to egg mix in pan.
Turn over bread to coat with egg.
Turn over omelette in pan.
Add cheese slices.
Add pre cooked bacon slices.
Apply ketchup.
Turn over 1 side of bread onto the other.
Remove from pan.
Serve plate and cut in half.