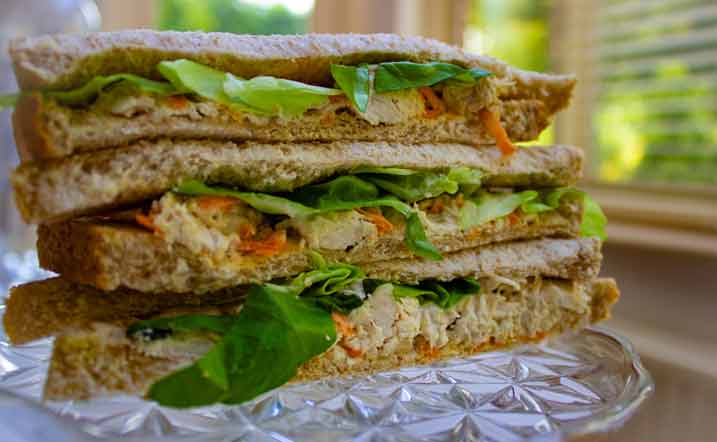 Chicken Sandwich Recipe for Kids
This easy chicken sandwich recipe for kids has really taken off recently when our friends at Tiffin Box posted a video on their channel highlighting this easy to prepare tasty sandwich.
Some parents have difficulty in adding extra vegetables into their kids' diets. Here we have the perfect way to add some healthy lettuce and grated carrot and not forgetting nutritious ginger all in a classic sandwich.
As soon as I saw this video uploaded I had to try this one for myself and share it. Young hungry tummies will be well satisfied after eating this balanced nutritious sandwich.
Step by Step Guide to Making the Chicken Sandwich
Preparing the chicken
This recipe lends itself to using up any leftovers from a roasted chicken you may have in the fridge.
From scratch, I use a boneless half chicken breast, around 180 grams. You can use thigh or drumstick if you wish. This amount of chicken is enough filling between 4 slices of bread, serving 2 people.
Cooking the chicken
Place the half breast into a small pan. Add the ginger garlic paste and season to taste.
Add 1.5 cups of cold water and bring to the boil, cover and let simmer for 15 minutes until the chicken is cooked through.
This cooking method ensures the chicken remains tender and moist. Now place the cooked chicken breast onto a chopping board and shred using 2 forks.
Place the shredded chicken into a bowl and add the mustard and mayonnaise. I have added grated carrot to my sandwich for extra flavor and crunch.
Combine the mixture gently together. You can refridgerate the mix for the next day if you wish.
I have used whole wheat bread in my sandwich for extra fibre, but you can use white bread too.
Lightly butter the bread on both sides then spread the chicken mix evenly on one side of the buttered bread. Top with some lettuce and the remaining bread slice to complete your tasty sandwich.
Place onto a plate and cut into triangles to serve.
If you take a look at the video presented on Tiffin Box, you will see how easy it is to make this delicous sandwich.
Chicken added to pan 0:31
Chicken shredded 1:20
Chicken added to mixing bowl 1:45
Bread buttered 2:55
Lettuce topped off 3:05
Chicken Sandwich with Carrot & Lettuce
Ingredients
Half chicken breast – or 180 g 
Salt and pepper to taste 
Ginger garlic paste – 1 tsp 
Whole wheat bread slices 
Mayonnaise – 3 to 4 tbsp 
Mustard sauce – 1 tsp 
Fresh chopped veggies
Lemon juice optional 
Lettuce
Carrot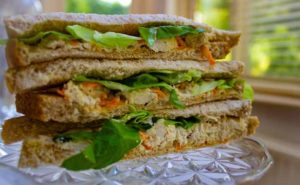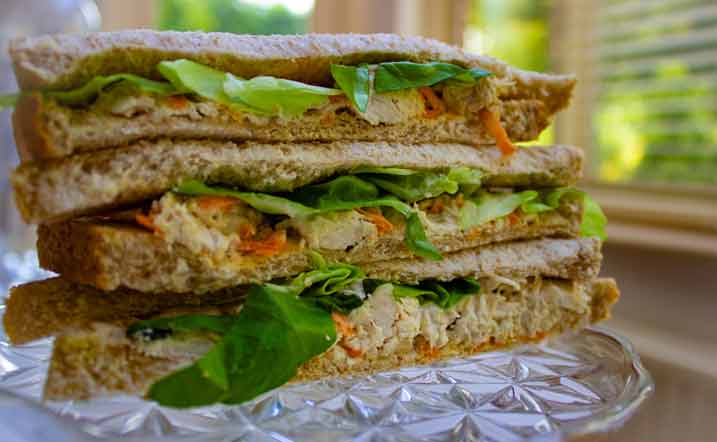 Instructions
Place chicken breast in pan.
Add ginger garlic paste.
Season with salt and pepper.
Add 1.5 cups of cold water to pan.
Bring to boil.
Cover pan and simmer for 15 minutes
Remove breast and shred using 2 forks.
Place shredded chicken in bowl.
Add mayo and mustard sauce.
Add freshly chopped veggies.
Butter bread both sides.
Spread chicken mix on one side of bread.
Top with lettuce and 2nd bread slice.
Serve on a plate.