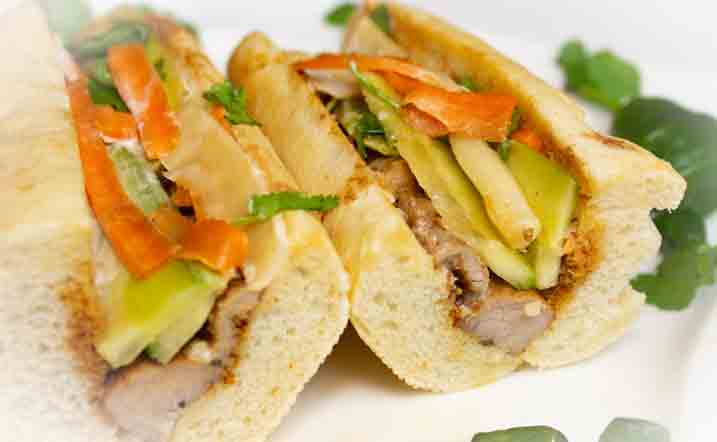 Vietnamese Pork Banh Mi Recipe
One of our favorite sandwiches here at Make Sandwiches is the Banh Mi, we love the fresh tasting flavors. If you haven't tried a Bahn Mi you're in for a real treat, they are delicious.
This particular sandwich we're going to make today is the Vietnamese pork banh mi. There is also our very popular chicken banh mi recipe that's worth checking out if you prefer chicken in your sandwich.
To start off we're going to cut some pork tenderloin into long thin strips. I use around 8 oz (250 grams) of pork to fill a medium sized baguette and serve one hungry mouth.
With the pork cut into strips, now add all of the marinade ingredients listed below into a bowl, mix together and then add the pork, cover and leave in the refrigerator for at least 30 minutes.
8 oz (250 grams) pork tenderloin, cut in long thin slices 
1 shallot or red onion finely chopped
3 cloves of garlic / 3 Tbsp of chopped lazy garlic
1/8 cup lemongrass, finely chopped 
1 tablespoon sesame seeds (optional)
1 tablespoon sugar 
1 tablespoon black pepper 
2 teaspoons of honey 
2 tablespoons fish sauce 
1 teaspoon sesame oil 
1 teaspoon oil (vegetable or canola)
Take the marinated pork from the refrigerator after it has had time to infuse all those lovely flavors and start to cook through the pork meat. I have fried my pork in a large pan with a drop of oil, you can grill your pork loin strips if you prefer.
It's time to start assembling the banh mi. Take a medium sized crusty baguette and cut down one side. Spread some mayo on to both cut sides. I prefer Japanese mayo or Kewpie mayo as it's known but you can use any regular mayo you have in your kitchen.
Now layer the cooked pork loin strips along the mayo covered bread, followed by a layer of daikon and carrot pickle. Make sure the pickle is drained of any excess liquid using some kitchen towel beforehand.
If you don't know what pickled daikon and carrot is, have a read of the article I've written about this delicious Southeast Asian condiment.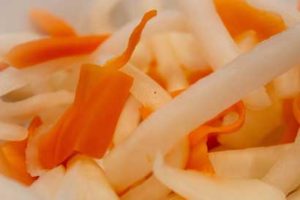 Finally add some chopped fresh coriander and a drizzle of soy sauce. I've added some chopped green chillies to my banh mi sandwich for an extra kick, but it's up to you of course.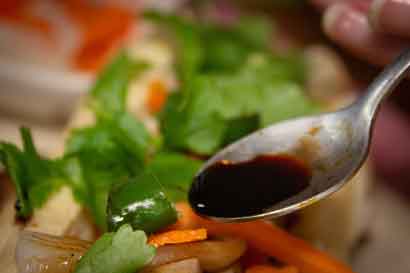 That's all there is to making a traditional Banh Mi. Now sit back and enjoy this popular Vietnamese street food.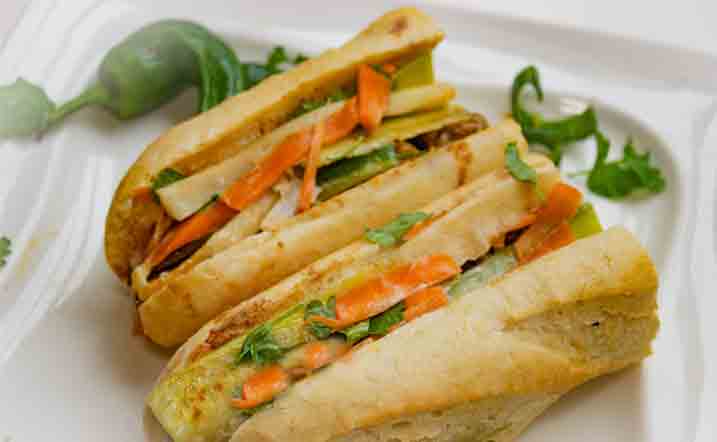 Check out Cook With Mikey in the video below to watch how the banh mi is put together.
Ingredients
See ingredients for marinade above
White baguette
8 oz of pork loin
Daikon & carrot pickle
Kewpie mayo (Japanese style)
Fresh coriander
Green chillies (optional)
Soy sauce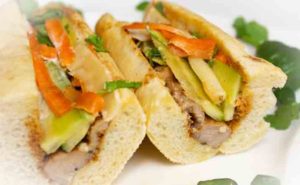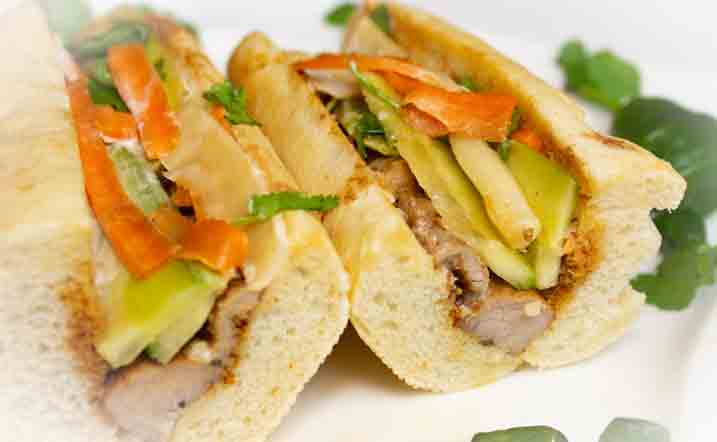 Instructions
Cut the pork loin into thin strips
Prepare the marinade for the pork
Add pork to the marinade & leave for 30 minutes in fridge
Cook marinated pork either by frying in oil or grilling
Cut baguette down one side
Spread mayo on to cut sides of bread
Layer cooked pork on to mayo covered baguette
Drain daikon and carrot pickle
Add pickle on top of pork loin layer
Finish with a sprinkle of chopped fresh coriander
Drizzle soy sauce over the banh mi to taste
Serve