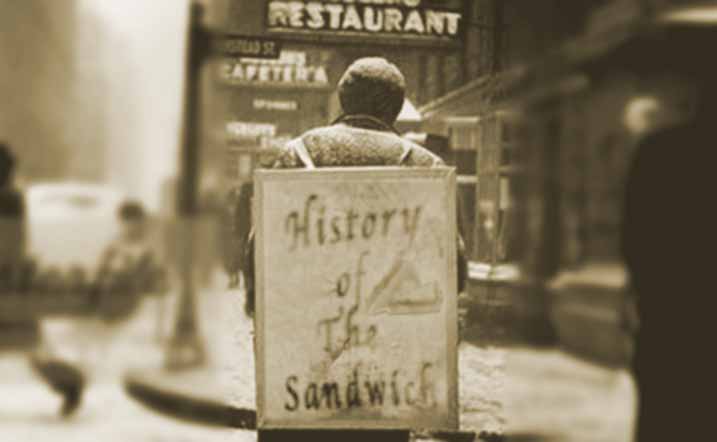 The sandwich is a very popular snack nowadays as well as the favorite staple food for many busy people, and it is not all that difficult to understand why. Not only is it delicious, but it's also open to interpretation and easy to carry along with you to eat. 
It also has an interesting and long history many people don't know about and that's exactly what we'll be talking about in this article.
Earl of Sandwich
In 1762, this food became popularized in England by John Montagu, the fourth Earl of Sandwich. A lot of food historians come to agree that he had a gambling problem, leading him to spend many hours at a card table. 
During a certain long binge, John asked a house cook for the kind of food he could eat without leaving his seat, which the cook brought to him, and just like this, the sandwich was born. 
He enjoyed his bread and meat so much that John ate it constantly. Then as a concoction became popular and widespread in London society circles, the food took on an Earl's name.
As to where he first got an idea for his creation, it all started with his traveling adventures; he traveled abroad to the Mediterranean region, where Greek and Turkish mezze platters were served. 
Cheeses, dips, as well as meats, were "sandwiched" on layers and between bread. It is highly likely that he got his inspiration from these foods while he was sitting at that card table.
His creation became immediately popular. Several months later, the man known as Edward Gibbon mentioned a sandwich by name in the diary entry, describing that he'd seen 20-30 men of a kingdom eating it in the restaurant.
The Revolutionary War
By the Revolutionary War, a sandwich was already well established in England. Maybe you'd assume that American colonists would have taken to this food as well, however, there is not any early written record of such occurrence in the new country, until the recipe of it did not appear in the American cookbook in 1815.
So what caused it? It seems that early American cooks usually avoided culinary trends that originated from the former ruling state. As for the name "sandwich", it originates from a British peerage system, the thing that the majority of Americans wanted to forget. 
However, after that memory disappeared and a sandwich appeared, the most favored version was not turkey or ham, but tongue. Obviously, most Americans nowadays wouldn't ever dream of eating the tongue sandwich.
Iconic New Orleans Sandwich 
However, that's okay because Americans came up with several great sandwich ideas since then. The iconic New Orleans sandwich, a Po' Boy, came into existence during the streetcar worker strike in the Great Depression era. 
Two brothers, who were streetcar operators before, owned the sandwich shop nearby. They promised that they would feed any striking worker for absolutely free. Whenever the hungry striker entered a shop, clerks yelled, "Here comes another po' boy," after which a name stuck.
The Sloppy Joe 
The school lunch staple, a Sloppy Joe, came to existence around the same time, a brilliant innovation of the short-order diner cook called Joe. The Reuben, an un-kosher treat of corned beef, sauerkraut, and Swiss cheese appeared in Omaha, Nebraska. 
It's named after one certain participant in the weekly poker game taking place in the hotel, a creation that took off when a hotel owner eventually featured it on a dinner menu. Later, it even won the nationwide recipe contest. The rest is history.
Bonus – Quick Facts About The Sandwich
Depending on a region, a hero sandwich can be called a lot of other names, such as grinder, sub, and hoagie.
American people eat more than three hundred million sandwiches daily which is a fascinating statistic because there are a little bit more than three hundred million Americans.
 In America, the most popular sandwich remains a standard ham sandwich consisting of cheese, ham, mayonnaise, or mustard, followed by a BLT.
The largest sandwich in the world weighed 5,440 pounds.
The most expensive sandwich that was ever sold remains the grilled toast sandwich. It appeared that it had the image of a Virgin Mary on it and was sold in 2004 for $28,000. 
On May 14 of 2013, British Sandwich Association in Manchester, UK, archived that the number of people who make this food simultaneously is 607, which is quite a lot.