This page may have Commerce Content. If you buy something from our posts, we may get a small share of the sale.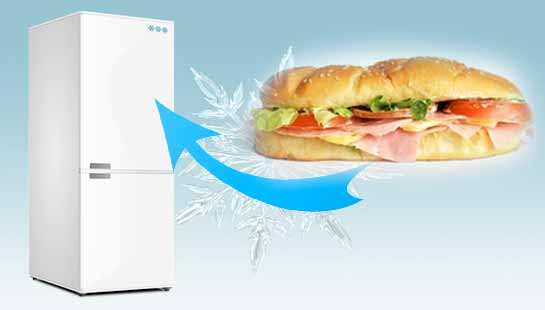 Freezing Sandwiches - A Guide On How To Freeze Homemade Sandwiches
For a long time, sandwiches have been one of the quickest ways to prepare a snack, and most people eat throughout the day when they have a busy schedule. 
If you commute daily to work which involves leaving home early, you can beat the morning rush by simply freezing some sandwiches a number of days prior in pre-made batches. 
With frozen sandwiches, you can save time as you just grab and go in the morning. Below are some tips on how to freeze your homemade sandwiches.
What Sandwiches To Freeze
As said before, a frozen sandwich can serve as a quick snack, lunch, or even dinner. However, not all sandwiches can be frozen due to the varying characteristics of ingredients. The sandwiches that freeze the best are:
Cheese sandwiches: you can eat them cold or as a grilled cheese sandwich that you can heat later
Peanut butter and jam sandwiches: Ensure that you have spread butter or jam inside both sides of each bread slice.
Top Tips For Freezing Sandwiches
Follow the tips below for the best frozen sandwiches.
Ensure that you have cooked and chilled the fillings before freezing.
Avoid adding sauces directly to the bread, it's better to spread the sauces directly on the fillings.
Always store each sandwich in tin foil before placing them into a freezer bag.
Don't store the sandwiches in the freezer for more than six weeks if you want to retain taste and texture.
Heat the sandwiches to serve them hot or thaw them in the refrigerator if serving cold.
Why You Should Cook The Fillings First
No matter whether you serve the sandwiches cold or hot. Ensure sandwich meat fillings are well cooked. Especially if the fillings are chicken, beef, bacon or pork. 
Use a meat thermometer during the cooking process to check the meat has reached optimum cooking temperature.
How To Prepare Freezer Sandwiches
You can prepare your sandwiches for freezing in two ways:
Assemble the sandwiches fully and wrap each sandwich individually: This method is the best for people who make several sandwiches at once and wish to pull out a single sandwich at a time. 
They can be sandwiches with dry fillings, breakfast sandwiches or any other type of sandwich without mayo or egg.
Assemble a sandwich kit with all the ingredients prepared: This is the best option for saucy sandwiches like the French dip sandwich and the meatball sub. You will only assemble the sandwich and serve when you need to.
How To Prepare Freezer Sandwiches
Below are some of the sandwiches you should not freeze.
Sandwiches with mayonnaise
It is not advisable to freeze sandwiches with mayonnaise because mayonnaise will most likely separate and make everything soggy. Instead, you should add mayonnaise when serving. 
Alternatively, you can use garlic butter and add some herbs to add some flavour. This also means that you should not freeze egg salad, tuna salad and chicken salad.
Egg sandwiches
Both egg salad and breakfast egg sandwiches do not do well for freezing due to the change of the egg texture after freezing. The best option is to make these sandwiches fresh.
Does the type of bread you use matter when freezing sandwiches?
You can use any breed for freezing sandwiches. However, you should consider the sogginess factor: A hearty roll will hold up better inside a freezer compared to fine sliced bread.