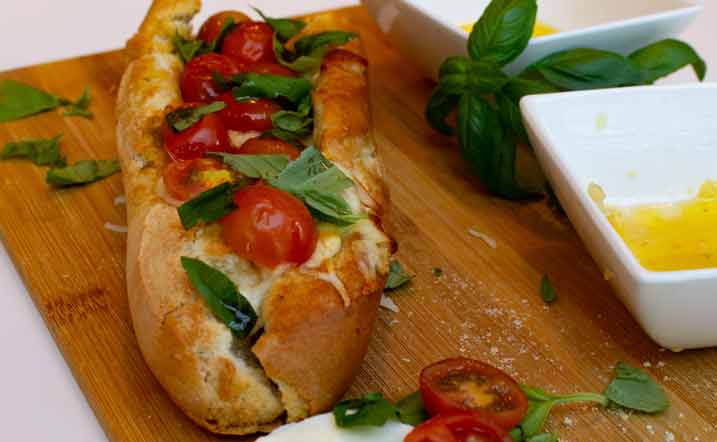 Brazilian Sandwich - Bruschetta with Chorizo & Mascarpone Cheese
Brazilian food is a real fusion of cultures combined together. This Brazilian sandwich recipe has influences from the Southern Mediterranean in particular Italy.
The basis of the sandwich is the baguette topped with cheese, chorizo, along with cherry tomatoes and garlic butter. Sprinkled on top with some fresh basil leaf.
How to Make a Brazilian Sandwich
To start we'll make the garlic butter. Take 1 oz of butter (28 grams) and melt gently in a small pan. Add one clove of chopped garlic and a tablespoon of olive oil. Leave on a medium heat until the garlic has combined with the butter and oil well.
Cut the baguette down the middle and fold open. Using a pastry brush if you have one, brush the garlic butter fairly evenly along the cut side of the bread.
Now for the chorizo. Chop around 200 grams of chorizo into small chunks. You can buy your chorizo already diced if you wish.
Place the chorizo in a medium hot pan with a splash of olive oil and heat for several minutes to release all those spicy flavors.
Take the cooked chorizo and spread on top of the garlic infused baguette. Add a layer of mascarpone cheese cut into large slices.
Sprinkle a layer of mozzarella cheese on top and finally add some half cut cherry tomatoes.
Place the sandwich under the grill for around 12 minutes until the cheese has melted.
Remember to keep and eye on the sandwich whilst under the grill.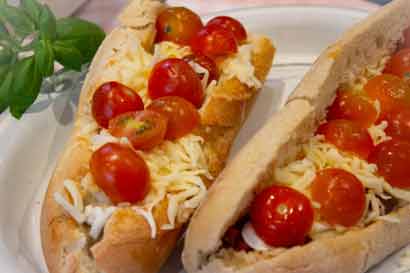 Finally top with some fresh basil leaf and serve. Now to enjoy this delicious hot bruschetta sandwich!
Check out how to make this Brazilian Bruschetta Sandwich in the video below.
Hot Bruschetta with Chorizo & Mascarpone Cheese
Ingredients
Baguette style bread 
Mascarpone cheese – 100 grams
Mozzarella cheese – 150 grams
Chorizo – 200 grams
Cherry tomatoes – 4 to 6
Garlic clove – 1 clove
Butter – 1 oz – 28 grams
Olive oil
Fresh basil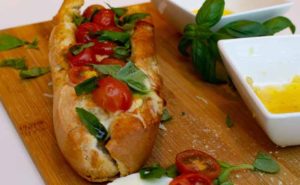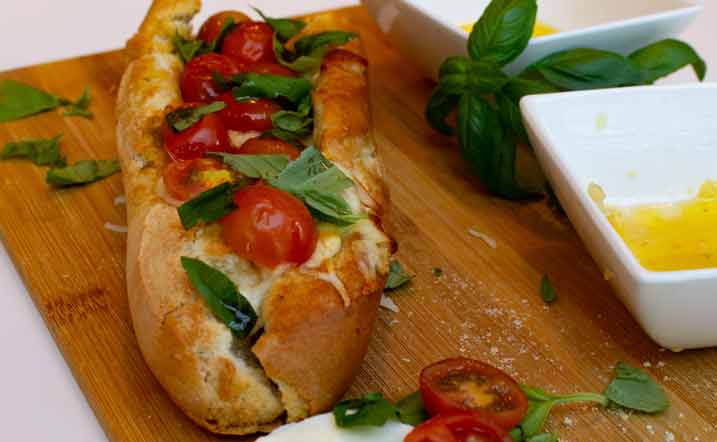 Instructions
Take 1 oz of butter, 1 Tbsp of olive oil, 1 chopped garlic clove and heat in a pan for several minutes
Cut baguette down one side and spread garlic butter evenly
Add chopped chorizo to a medium hot pan and cook for several minutes
Spread cooked chorizo along garlic infused baguette
Add a layer off sliced mascarpone cheese and a sprinkle of mozzarella.
Top with sliced cherry tomatoes
Plae under grill for around 12 minutes until cheese has melted
Remove from grill and sprinkle fresh basil leaf on top
Serve