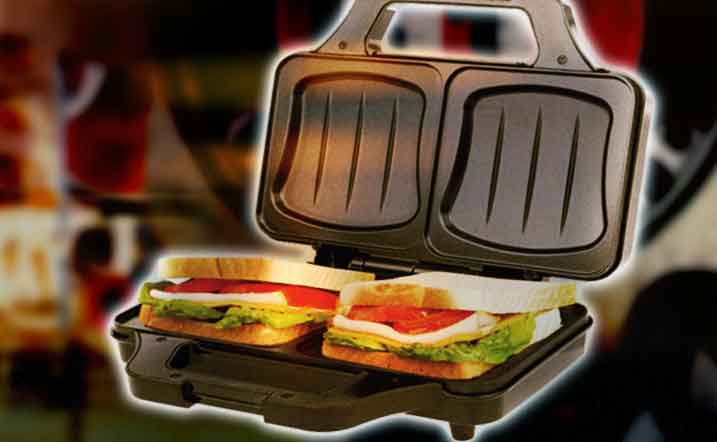 How to Choose a Sandwich Maker
This article takes a look at the key features to look out for when considering a sandwich maker as a new addition to your kitchen. Thus providing a comprehensive guide on how to choose a sandwich maker.
We all want to reduce the time it takes to prepare food in the kitchen during a busy working week.
A sandwich for breakfast or lunch does not have to take an age to make, thanks to the latest kitchen technology.
Smarter kitchens have appliances which can prepare our food items for us in no time. This has led to the rise of a very special yet commonly found device in all households; the sandwich maker. 
Sandwiches are easy to make with or without fillings. They make for a great choice of breakfast as well as a snack on the go. 
However, preparing them on a gas stove can increase the chances of you making a mess with the food items and even getting yourself burnt in the process. 
This is where a sandwich maker comes in. Read on to find out more.
Sandwich makers are small home appliances that help you to toast, grill and heat sandwiches. You can add any kind of filling you want inside the sandwich like salami, chicken, fish, eggs, vegetables, etc. 
With this device you can prepare chicken sandwiches, grilled sandwiches, vegetable sandwiches and many other bread based snacks.
It allows people with busy lives to experiment a lot with their ingredients and reduces the time in making a sandwich to a great extent. 
The very first sandwich maker was invented in the 1920s and named as the Toastwich. Since then technology has allowed these devices to incorporate a lot of features which come in useful when preparing a fresh sandwich.
Main Features to Look Out For
If you are looking to get a sandwich maker for yourself, first you should know about the different features and characteristics of sandwich makers out there. This will help you make an informed choice.
The power used by the device is actually the power needed to heat up the element inside the maker.
The range of power used by manufacturers are from 640 Watts which are present in the mini sandwich makers up to around 1400 Watts in the more professional ones. 
If you want to cook regular sandwiches with light fillings, you can go for an entry level maker which will use less power. 
If you want to make sandwiches with larger fillings like meat or fish that require cooking, you might want to consider a more professional model.
Before you decide to buy a sandwich maker, you should determine the shape of bread you will be using the most often. 
The plates come arranged in a manner where you can use triangular or square slices of bread. In some models which are less common, you'll have the option of using rounded breads. 
There are also some makers where there is no compartment as such and you can cook sandwiches of any shape you want.
Different appliances can prepare different numbers of bread slices. This depends on the size of the sandwich maker that you are buying and the number of plates that they have. 
If you prepare more than 2 sandwiches, you might want to look for a maker where there are 4 plates for preparing 4 square slices. This can help you to save time when catering for 2 or more people.
The cover of the maker is usually coated with a substance to make it non sticky for cooking. If the maker does not come with a non stick coating, you might want to consider other makers. 
Non stick coatings allows the makers to be cleaned more easily and it also creates less mess while cooking at higher temperatures. This is an important factor to be considered when looking to buy a sandwich maker.
If your sandwich maker is thermally insulated, then you do not have to worry about burning your hands. 
It is better if the whole device is thermally insulated, though such sandwich makers will cost more than the regular ones where only the handle is insulated.
Additional Features of a Good Sandwich Maker
These are some of the basic features to look out for in the sandwich maker you are considering buying. Some more additional features which can come in useful to you are:
Panel Blocker
This is a special kind of a catch system or a latch which prevents the device from being accidentally opened. 
It helps to secure the lid tightly while the sandwich is cooking and also stops you from burning your hands.
Heating Readiness Indicator
A control panel on the front can signify when your sandwich is ready, set temperature inside and even signal the switching on and off of the device. 
Such indicators are found on more costly models, but feature to have if you are ready to shell out a few extra bucks.
Temperature Controller
This helps you to regulate the temperature at which the sandwiches will cook. If you want a sandwich maker for cooking your fillings, you might want to consider getting one with a temperature regulator.
Choosing The Best One For You
If your purpose is to simply warm your bread with a hint of butter, mayo or some fresh vegetables, you might want to get an entry level maker which will slightly warm your slices. 
However, if you're someone who likes to experiment with fillings and wants a device which can allow them to create different types of sandwiches, you might want to look for more advanced ones. 
There are a lot of reputed brands out there which have both entry level and professional makers. Brands such as Breville, Hamilton Beach and Proctor Silex to name a few are brands worth taking a look at.
A sandwich maker is certainly a boon for people who are looking for a quick fix to their breakfast or to prepare an easy snack for the day. 
They are light and portable devices and you can even carry them around with you when car camping or travelling.
Take a look at these buying guide articles for different types of popular sandwich makers.