This page may have Commerce Content. If you buy something from our posts, we may get a small share of the sale.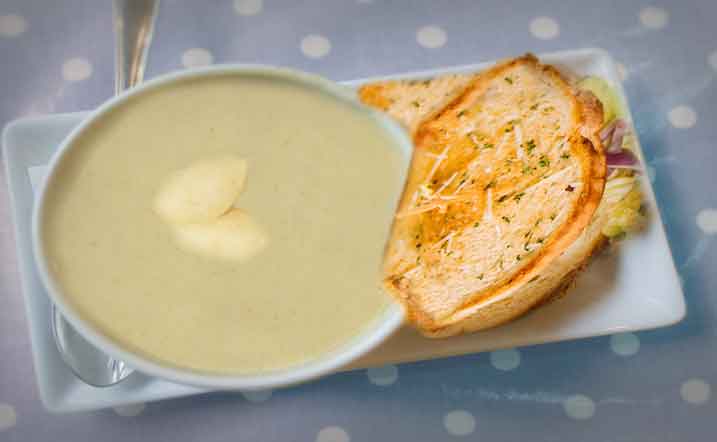 What Sandwich Goes With Potato Soup? - Six Delicious Sandwiches to Choose From
Potato soup is one of the best comfort foods that never fails to hit the right spot. On top of that, it's easy to prepare and requires less effort. As such, you can have it on any day of the week. However, it's not that easy when you think about what sandwich goes with potato soup.
Of all the complimentary dishes that pair well with potato soup, sandwiches are the most popular ones. Serving a sandwich along with potato soup and you have yourself a healthy lunch that keeps you going all day.
Let's take a look at various sandwich choices as only the right sandwich compliments and balances the potato soup.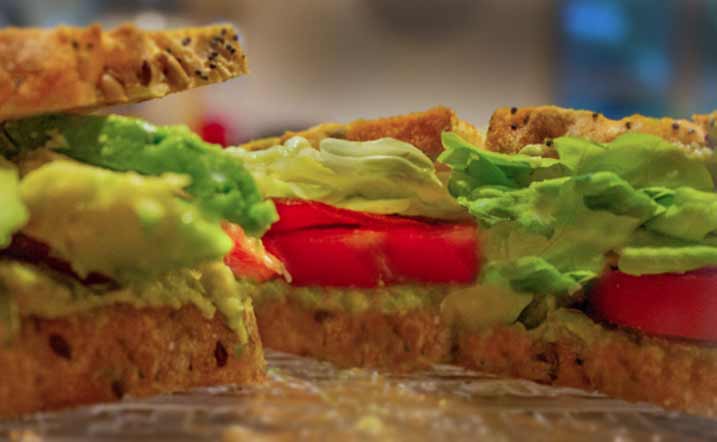 Potato soup and BLT sandwiches are a classic combination that people sometimes overlook. The BLT sandwich tastes delicious with potato soup because it consists of lettuce, tomato, and bacon.
The simple ingredients alongside tasty potato soup are refreshing as well. Moreover, it adds an appealing texture to the overall meal. If this tickles your tastebuds, check out our BLT recipe.
Cucumber Sandwich
The open-faced cucumber sandwiches are light and easy to make and they are delicious at the same time.
Because sandwiches and potato soups are a classic combination, having a cucumber sandwich is another great way to experience a satisfying treat.
In short, there is something special and refreshing about these sandwiches when served with potato soup as the main dish. 
All you need is fresh white bread, mayo, cucumbers, and seasonings to bring out the best in a hearty homemade potato soup.
Low Carb Sandwich
Many people try to balance out the starch content present in potato soup by pairing it with a low-carb sandwich. So, if you are one among them, a low-carb sandwich should be the right choice.
Simply take a whole-wheat thin bagel and spread cream cheese having low-fat content. Also, you may try onion or chive flavored on both sides.
Furthermore, add sliced cucumber, tomato, sprouts, avocado, and seasoning according to your choice. However, keep in mind to make the sandwich low in sodium.
Ham and Cheese Sandwich
Because potatoes have low protein content, a ham and cheese baked sandwich can provide a protein boost to your diet.
Moreover, if you want extra fiber you can try ham and cheese on rye bread. And, have a good melting cheese such as muenster or fontina.
Make a mixture of chopped onions, melted butter, and mustard in a medium-sized bowl. Next, coat each slice of bread with this mixture.
Add ham and cheese to it and wrap the whole thing in tin foil. Bake it for around 15 minutes at 350 degrees and you are good to go.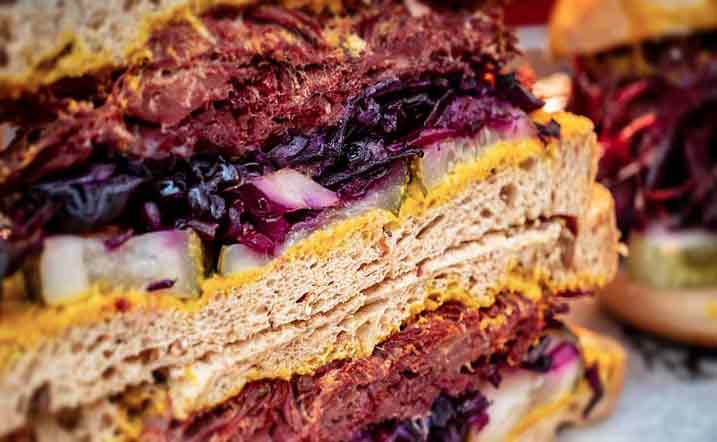 Reuben sandwiches are flavorful and deliciously savory that you can enjoy for lunch or dinner. So, if you are looking for some comfort food, you can never go wrong with the meat and potato combination.
Take two rye bread slices and spread Thousand Island dressing on them alongside Swiss cheese, corned beef, and sauerkraut between the slices.
Next, melt a teaspoon of margarine or butter in a heated skillet. After that, make both sides of the sandwich golden by putting it on the grill.
Also, make sure if the cheese is melted properly. If you are looking for a healthier option, you can use turkey in place of corned beef. Also, you can replace butter with fat-free cooking sprays.
Roast Beef Sandwich
Another great sandwich that you can pair with potato soup to experience a delicious treat.
Even if you look at the delicacies worldwide, you can find out that bread and soup are a classic pair and they go hand to hand. Roast beef sandwich and potato soup is loaded with flavor.
When it comes to making sandwiches, the more ingredients you put in them, the more flavor it delivers.
Dipping a chewy and soft piece of roast beef sandwich in a bowl of potato soup. It appears that nothing can beat the partnership of roast beef sandwiches and potato soup.
This combination has complementary flavors and makes a hearty meal. This pairing is going to cheer your tummy, heart, and soul.
Final Takeaway
So, which of these sandwiches are you going to try? If you are looking for a complete comfort meal, every sandwich mentioned above appears delightful when paired with potato soup. And, you should try them out.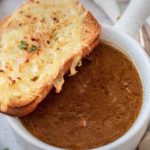 For those who enjoy soup and a sandwich, take a look at these classic sandwich combos that pair with French onion soup.