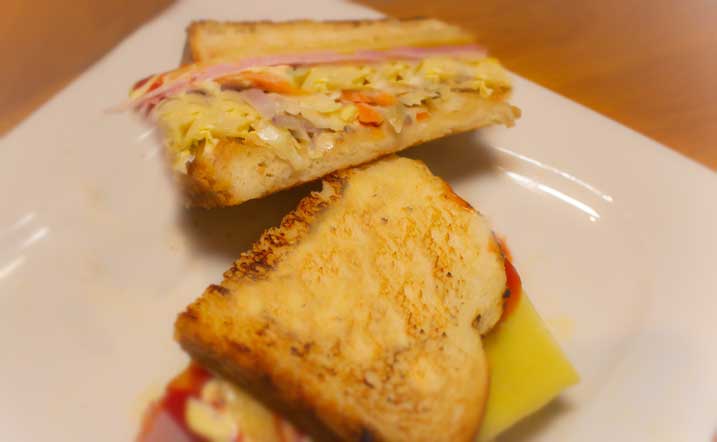 Korean Street Toast Recipe
Let's get right into making this Korean street toast recipe. This traditional toast has plenty of vegetables as part of the sandwich along with slices of ham and cheese.
Start by chopping the following vegetables finely with a sharp knife or you can use a mandoline if you have one in your kitchen.
1 oz cabbage, thinly sliced 
1 oz onion, thinly sliced 
1 oz carrot, cut into long thin strips
Place the cut vegetables into a bowl and add 2 whole eggs, a little seasoning, then mix together using chopsticks or a fork.
Butter 4 slices of thick white bread on both sides. You can use any bread you like but for that traditional Korean street food vendor authenticity you have to use white bread.
Now let's move over to the stove and heat 1 Tbsp of butter on a medium heat in a large frying pan. Gently poor the vegetable and egg mix into the pan, spreading the mix evenly into a basic square type shape.
Once the egg is starting to combine flip over using a spatula to quickly cook the other side. With both sides cooked you should now have what looks like a vegetable omelette. Remove from the pan and now heat up 2 slices of honey roast ham.
Remove the ham after around 30 seconds and then toast the bread on both sides for around 1 to 2 minutes until golden brown.
We're now going to assemble the sandwich. Sprinkle a pinch of sugar onto one side of the toasted bread. Then place the warm omelette onto the toasted bread slice, sprinkle a little more sugar.
Finally, layer a slice of honey roast ham and cheese on top.
It's time to add the sauce, add some ketchup and mayo to the cheese layer. I use Kewpie mayo for my sandwich but you can use any type of mayonnaise you prefer.
So simple and easy to prepare, this recipe is good for 2 sandwiches. I hope you enjoy this recipe, please share with your friends and family if you like it.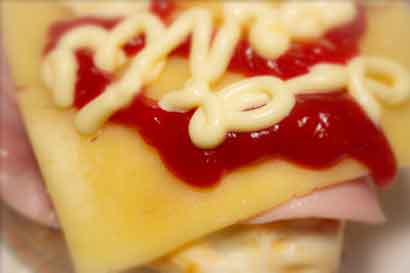 Ingredients
1 oz cabbage, thinly sliced 
1 oz onion, thinly sliced 
1 oz carrot, cut into long thin strips 
2 eggs 
1/2 tsp salt 
1/4 tsp black pepper 
5 Tbsp room temperature butter 
4 white sandwich breads 
3 tsp sugar 
2 sliced honey ham (optional) 
2 sliced American cheese (optional) 
Ketchup & Mayonnaise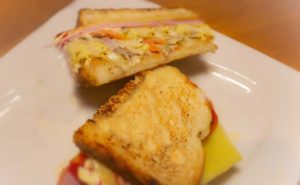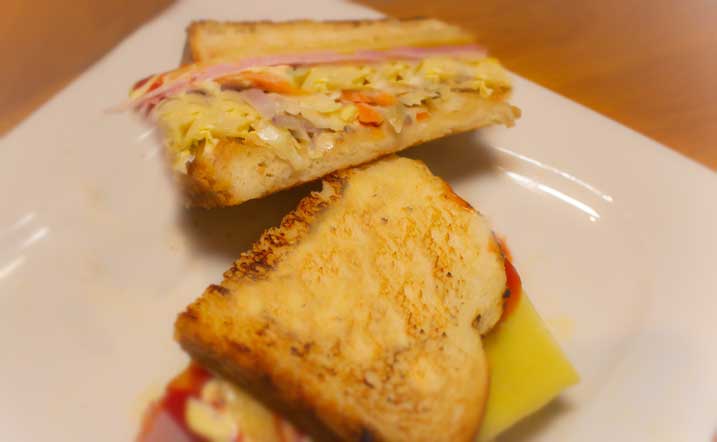 Instructions
Finely chop the vegetables
Place veg in a bowl and add 2 whole eggs
Mix veg & eggs together
Heat 1 Tbsp of butter in a large frying pan
On a medium heat cook the veg & egg mix in the pan
Remove from pan once cooked
Heat 2 slices of honey roast ham for 30 seconds in the pan & remove
Butter the bread slices on both sides
Place the buttered bread into the pan and toast on both sides until golden brown
Remove the toasted bread from the pan and sprinkle with sugar
Add the cooked egg & veg to the bread
Sprinkle with more sugar
Top with a layer of sliced cheese and honey ham
Squirt some ketchup and mayo onto the cheese layer
Top with the final slice of toasted bread
Serve